Group Ski Holidays
Skiing and snowboarding is great fun with a group of friends or family - whether you're sharing experiences on the mountain, enjoying a long lunch in the sun on a mountain restaurant terrace, or learning together on the nursery slopes, you're sure to have a blast.
At Interski, we want to make it as easy as possible for you to enjoy the Aosta Valley together. Check out our impressive group incentives offering free places and discounts. If you choose to travel by coach, we'll offer a local pick up for groups of 10+.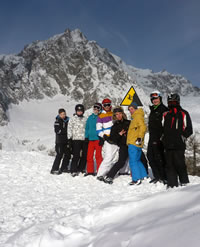 No. of Full Paying Passengers
No. of Free Places
Party Leader Concessions
10-19
1
-
20-29
2
2:1 holiday, 1 spouse @ 75% of basic cost, 2 children under 15 @ 50% of basic cost
30-39
3
40+
4
If you have a group of 10 or more (full paying passengers), please use the 'Request Callback' button below to send a simple request to our Sales Team. We will then call you at your requested time to discuss the details of your proposed ski holiday. Please rest assured this is a no obligation, no hassle call and is entirely for us to to provide you with the best quote possible for your trip.
Please note that discounts and benefits do not apply to selected special offers, Short Ski Breaks or bed and breakfast packages. Please note that children travelling on discounted prices do not count as full paying passengers.


Processing Your Details Now
Many thanks for completing the form.
Your interest interest in booking an Interski Group Ski Holiday has been sent to our Sales Team. We will review the details and be in touch with you in the near future. In the meantime, please feel free to contact us on either 01623 456333 or by email to email@interski.co.uk.