Party Leader Referral Scheme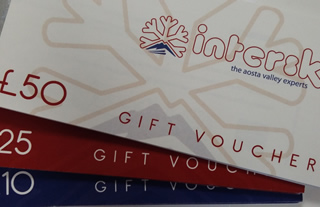 Our popular referral scheme couldn't be more simple. If you love what Interski does and you have friends who run a ski trip at their school, simply recommend that they get in touch with us and let us know that you sent them. If they go on to make a school booking, we will send you £250 worth of Interski Gift Vouchers* once a minimum of 20 deposits have been received, to say thank you! You can relax in the knowledge that your friends are in the best possible hands and can treat yourself to something nice, all at the same time.
There's no limit to the number of schools you can recommend, so why not start spreading the word!
"Overall I can honestly say this has been the best school trip I have ever organised. Interski have it spot on. Concentrating your business in one valley allows a level of service offered by no other company."E Jack, High School of Dundee
"Your service is second to none and we will rebook as soon as possible for next year."I Raggett, Mounts Bay Academy
"I cannot thank you enough when it comes to the medical side where we did have three pupils who required attention. Interski takes most of the stress off the teachers."J Sinclair, Prestwick Academy
* Vouchers can be used against any Interski product (school ski trips, holidays, training courses, rental wear, accessories etc.)

Processing Your Details Now
Many thanks for completing the form.
Your recommendation has been sent to our Sales Team. We will review your details and be in touch with you in the near future. In the meantime, please feel free to contact us on either 01623 456333 or by email to email@interski.co.uk.