Interski Employment Opportunities
Overall, there are certain qualities that we look for in our staff which are as follows:
Excellent customer service and interpersonal skills
Fun and outgoing personality with a flexible attitude
Excellent organisational skills
Flexible hands on and proactive approach
Highly motivated and able to motivate others
Able to work on own initiative
Great team player
Strong communication skills
Proven problem solving experience
Full driving licence required
How to apply
View the relevant video below.
Fill in your details and a copy of the application form will become available, complete this form and email with your CV to staffing@interski.co.uk. Applications will not be considered unless both documents are submitted together.
Applications for full time positions have now closed, we are still recruiting for part time roles.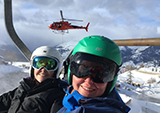 Resort Rescue
A unique position to Interski, you will act as a translatory service between any injured clients and the medical services in Italy. This role does not require any medical experience, you must organise logistics and act as a linguistic aid only. In the event of an accident or illness these invaluable team members are responsible for going to medical centres/doctors/hospital and hotels, providing caring and supportive back-up for sick/injured clients in resort. Duties include liaising between Italian and British agencies involved in the medical process. A willingness to provide an exceptional level of service and care is essential, as is the ability to communicate and organise effectively in this very demanding but rewarding position. You should be able to deal with clients colleagues/suppliers in a professional and reassuring manner during any emergency situations, whilst remaining calm and in control at all times. Italian/French is essential in this role.


Part Time School & College Co-ordinator
As a part time member of the team you would be employed on a casual basis as a School & College Co-ordinator. Generally known throughout the ski industry as a hotel rep. At Interski we know them as Co-ordinators, in recognition of the importance and extent of work they do. You will be the first point of contact for the school and college groups upon arrival in resort and are invaluable to the overall running of their programme, liaising between group leaders, hoteliers and coach drivers.

Additional Information
Season Dates Departure from Mansfield 4th December 2019 – Season End approx - 21st April 2020.
If applying for a Resort Assistant role you must be 21 or over due to insurance policy issues on certain vehicles which you would be expected to drive.
All staff members must have a DBS certificate issued within the last three years prior to the start of season.
All staff members must have full driving licence and will be required to obtain an International Driving Permit (1968 – version) prior to starting the season. This can be obtained from your local Post Office. (UK residents)
All staff must have a valid EHIC (European Health Insurance Card)(UK residents)
All staff must be eligible to work in the UK. (Appropriate visas held if non-UK resident)