The Aosta Valley
Why do we operate exclusively in the stunning Aosta Valley, Italy? Here are just a few reasons:
Stunning scenery
The valley is surrounded by some of Europe's highest peaks. Mont Blanc sits majestically above Courmayeur and La Thuile. Pila rests on the shoulder of the Gran Paradiso, while the soaring peaks of Monte Rosa and the nearby Matterhorn parade to the north, providing a truly spectacular backdrop.
Fantastic resorts
Three of the best – Courmayeur, Pila and La Thuile. All are high and have superb snow records. Each has areas that are perfect for beginners to find their ski legs safely, but also offer plenty to challenge intermediate and more advanced skiers.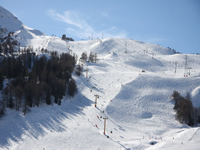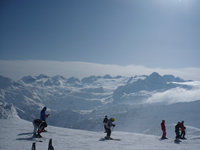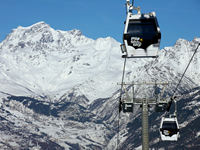 A fascinating region
History and geography come to life in this beautiful valley. You'll find hot springs, historic spas, fortified castles and beautiful hillside villages. The town of Aosta boasts more Roman ruins than any Italian town outside Rome!
A combination of cultures
Italian and French cultures combine in a unique mix in this enchanting bi-lingual region. The people of the valley - known as Valdostani - are warm, friendly and welcoming.
Delicious food
Stop off for a mouth-watering hot chocolate or a frothy cappuccino in a mountain café, before sampling local delicacies in one of many picturesque mountain restaurants. Courmayeur is known as the gourmet capital of the Alps and with good reason! And, of course, there's always that DELICIOUS Italian ice cream!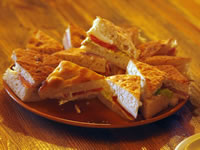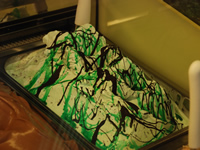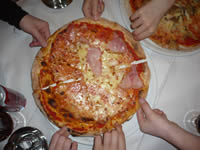 Local Knowledge
We've been taking people skiing in the Aosta Valley for over 30 years so, as you can imagine, we know everything there is to know about the area. We know which resort and which hotel will suit you best, where the best pizzerias and cafes are, how to find the best back country skiing or the perfect slopes for learning to ski. So if you've got any questions or want to know something specific, just ask – we'll have the answers. Call us on 01623 456333 or contact us on email@interski.co.uk.