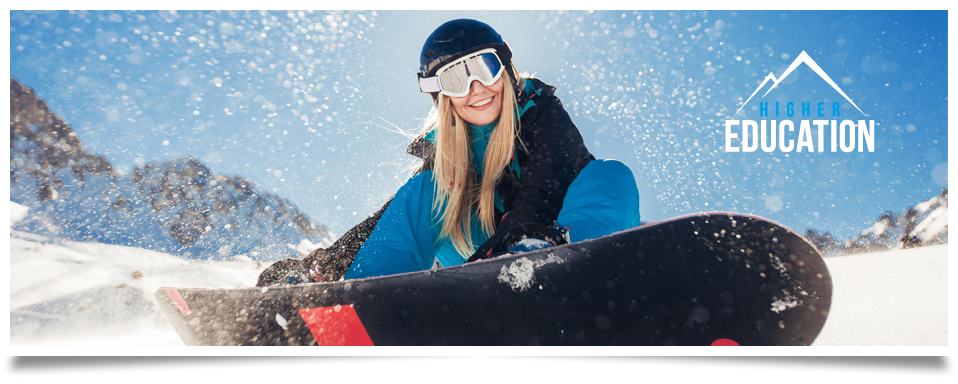 Higher Education
The Ski Slope Is The Ideal 'Outdoor Classroom'
In a nutshell, a snowsports trip is a chance for students to learn a new physical skill, acquire knowledge and participate in healthy exercise in an unfamiliar, but controlled, environment. It's often the first time a student has left home - an excellent opportunity for them to gain independence, self-discipline, confidence, as well as facing fears and pushing their own limits safely and successfully. It also presents numerous occasions to implement language and improve social skills.
Links to the National Curriculum and educational objectives are numerous.
Term-Time Makes Sense For Everyone
Save Money and Get a Better Experience
Travelling during term-time can save you over £200pp! As well as the massive financial saving, quieter resorts mean students get a better overall experience.
Travel on the 15th February 2020 and our cheapest price is £939. Change that date to March 2020 and the price drops to just £729!
We'd Love To Go In Term-Time But The School Won't Allow It
Hopefully We Can Help
Given the option, most schools and colleges would prefer to travel during term-time, but many decision makers simply won't allow it. We already know it's cheaper and that quieter resorts provide a better experience, but what else is there that might help sway the decision in your favour?
We've conducted a lot of research into the overall educational benefits of a ski trip and how that directly links to the National Curriculum. We've condensed this information into our Higher Education brochure which you can download by clicking the link on the right. We suggest you use this to present to your Head Teacher or Governers to show them that a ski course is a great educational trip as well as a fantastic life experience.
Sceptical? We also have a more in-depth supporting document which outlines exactly where the ski trip experience links to the National Curriculum - no pretty pictures, just hard facts. If you'd like a copy of this as well, please let us know.
References +