Training For Snowsports Instructors
Our range of training courses for instructors and aspiring snowsports professionals is quite varied, but very comprehensive. We offer courses aimed at current Instructors looking to improve their skills and prepare for exams and also courses for current skiers looking to launch a career in the snowsports industry. Whatever your interest, we are sure to offer a course suitable to your needs.
Full details of all our courses can be found below: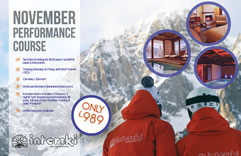 November Performance Course
Led by a BASI Level 3 Trainer, the course is ideal for anyone wanting to get their ski legs back/wanting to improve or to prepare for a BASI Technical exam.