Latest News
Welcome to our latest news page. From here, you can keep up to date with all the latest news and events at Interski. All the news items are listed below in chronological order.
You can also keep up to date with this page by signing up for our RSS Feed.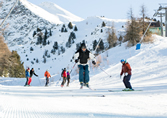 Interski Gap Year 2019/20
We are now taking bookings for our 19/20 Gap Courses. We offer a fully inclusive 10 week course, with up to 8 weeks employment after! Both skiing & snowboarding courses available. Find out more by clicking below or email thebestgapyearis@interski.co.uk.

Published on 11th December, 2018