Coach Operators &amp Transport Providers
Welcome to our dedicated Coach Operator page, with thanks for your interest. This page is here to give you some background information about Interski, who we are and how we operate, and also to explain the unique contract we offer our carefully selected Coach Operators, which protects against fluctuations in both fuel and currency rates.
Once you have read through our information, if you would like to be considered as one of our transport providers, please complete the New Coach Operator Application Form and we will contact you.
Interski
We operate exclusively to the Aosta Valley, NW Italy, using three resorts – Courmayeur, La Thuile, Pila. Depending on the season, we anticipate 12,000 – 14,000 clients. The majority of our holidays involve executive coach transport, with up to 300 ex-UK departures between the months of December and April. Standard tours involve Saturday departures, 6 nights in resort, with return arrival in the UK on Sunday am. An increasing number of clients opt for 5 night tours, with vehicles returning to the UK on Saturday (cost differential). The resort operation is refined, efficient, effective – staffed by a talented, experienced team. Back-up, help, information and assistance are never far away, and always in abundance.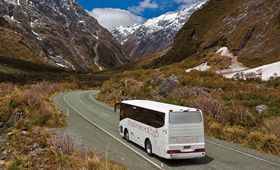 What We Expect From Our Coach Operators
Recent (max. 4 years) executive vehicles, 49 seats(+), preferably in white (to apply our livery.)
Full documentation – registration number, insurance, operator licence, recovery/rescue back-up.
Professional crews, seriously customer-focussed and CRB checked.
What Does Interski Provide?
Detailed itineraries
Ferry tickets
Breakfasts en-route
Driver full-board accommodation (twin share)
1 x 4 day lift pass per vehicle
2 x non-skier one day lift passes per vehicle
By arrangement, use of ski suits, ski/board + boots + poles
Access to ski/board tuition
Qualified Interski coaching personnel, at base (Mansfield) and in Italy
The Work
Very simple. Transport to and from Italy (Dover/Calais P & O) with daily transfers hotel/main ski lifts am and pm. Evening work involving transfers hotel/variety of après-ski venues/events.
Payment
On signature of contract, substantial deposit per liveried vehicle. Balance payment, per vehicle, during the week following return (Sunday). End of programme reconciliation.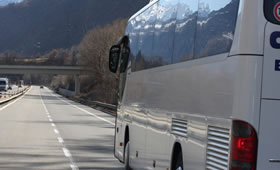 The Contract
A unique system, conceived to eliminate Operator risk, to protect against fuel and currency fluctuations and to provide prompt and regular income during the programme.
How Does The Contract Work?
Payment for each departure is calculated as follows:
A

core payment

, taking into account distance from Operator base to Dover and bearing in mind the necessity (or not) for feeder drivers.
A

UK fuel payment based on 10 mpg

and accurate mileage/km. The fuel cost/litre is declared at the beginning of each month, and applies to all departures within that month.
A

continental fuel payment based on 10 mpg

and accurate mileage/km CALAIS/RESORT/CALAIS, and including 200 in-resort miles. The continental fuel cost and value of £/&euro (tourist rate) are declared at the beginning of each month and apply to all departures within that month.
A

continental tolls and Mont Blanc Tunnel payment

. £/€ (tourist rates) values are declared at the beginning of each month and apply to all departures within that month.
The System
Each Monday, Interski provides an estimated calculation of variable costs above for the vehicles returning the Sunday prior. Subject to mutual agreement - Interski/Operator - these costs, together with the core payment, are provided on the Wednesday/Thursday.
Summary
Deposit on contract signature.
Core payment, UK mileage/km, continental mileage/km, continental tolls and Mont Blanc Tunnel – paid weekly.
End of programme reconciliation.
Interski Drivers
A number of Interski resort staff are qualified coach drivers. For logistical reasons, they may be required to drive the Operator's vehicles in resort (departure day shuttles/double runs etc).
Are You Interested?
If you'd like more information about becoming part of our team , simply fill in the enquiry form below and we'll be delighted to send you more information.


Processing Your Details Now
Many thanks for completing the form.
Your interest in working with Interski has been noted and forwarded to us. We will review the details and be in touch with you in the near future. In the meantime, please feel free to contact us on either 01623 456333 or by email to email@interski.co.uk.