Latest News
Welcome to our latest news page. From here, you can keep up to date with all the latest news and events at Interski. All the news items are listed below in chronological order.
You can also keep up to date with this page by signing up for our RSS Feed.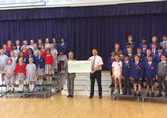 Congratulations to Fairfield Preparatory School
Fairfield Preparatory School in Loughborough are the proud winners of Interski's Winter 2018/19 Group of the Season award. During a surprise visit to the school, members of the ski trip were presented with a cheque for £1000, a framed certificate and various other prizes by Interski's Chairman, Colin McIntosh.
Published on 18th June, 2019