Term Time Skiing
We believe passionately in the benefits students can gain from learning together in the mountains and the educational value of experiencing different cultures, languages and physical geographies. There is strong evidence that good quality learning outside the classroom adds much value - a fact recognised in many UK government initiatives and across the educational spectrum.
Why Go Skiing During Term Time?
Here are just a handful of reasons why skiing during term time makes sense:
Lower prices make the trip more affordable and more accessible to all students
An enhanced free place ratio for accompanying staff (1:7)
Quieter slopes, meaning more space for beginners to learn confidently and a better, safer experience all round
Greater choice of accommodation and availability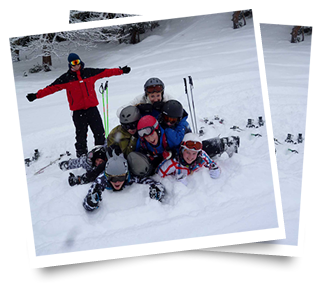 Excellent Educational Value
To enhance the educational value of your ski trip with Interski, we can provide:
Video evidence for GCSE or A Level PE
Career talks
Industry related seminars (avalanche training, ski fitting, snow holing etc.)
Language practice - the Aosta Valley is bilingual (French and Italian)
The Aosta Valley abounds in historical and geographical features – use as examples in your studies
Opportunities for social and personal development, as well as the chance to learn new skills
The Lowest Prices – The Best Value Packages
We appreciate that party leaders are looking for the best value for money, but that doesn't always mean the cheapest price. We will NEVER compromise on quality and while we try to keep our prices as low as possible on all dates of the season, we feel it is especially important during term-time as it opens the trip up to a wider range of students for whom the experience represents far more than just learning to ski. Whenever you travel, there are no hidden extras, no supplements for small groups/extra adults/older students – just one simple price and our guarantee that it won't change. Literally all the students need, is pocket money – now that's real value!
How Do I Book My School Ski Trip With Interski?
Booking with Interski is easy!
It's useful, but not essential, if you have a rough idea of when you'd like to travel and how many students you think will be on your trip. Give us a call on 01623 456333 and we'd be happy to discuss prices and availability with you.
Alternatively, you can you use our school ski trip quotation request form. Simply complete the details and we'll get in touch with you.
Whichever way you choose to contact us, we're happy to provide you with a 'no obligation' quote and can even reserve hotel space whilst you consider your options! We'll also give you further details of how ski trips with Interski work and what makes us different from other ski tour operators.