Special Offers
Welcome to our Special Offers page. From here, you can keep up to date with all the latest news and events at Interski. All the special offers listed below are in chronological order.
You can also keep up to date with all our latest news and offers by subscribing to our RSS Feed.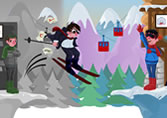 Introductory Offer - The Leap of Faith
We know that changing your current supplier, or launching a ski trip for the very first time, can be a daunting prospect... but when you travel with Interski, you're going to experience something refreshingly different! Click on the link below to find out more!

Published on 10th April, 2016