Special Offers
Welcome to our Special Offers page. From here, you can keep up to date with all the latest news and events at Interski. All the special offers listed below are in chronological order.
You can also keep up to date with all our latest news and offers by subscribing to our RSS Feed.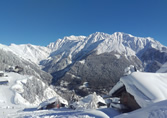 Last Minute Cancellation For Feb Half-Term 2019
Due to a last minute cancellation, we have space available at the Hotel Telecabine in Courmayeur for a group of up to 22 people, priced at £979pp, including a 1:8 free place ratio.

Published on 23rd November, 2018